Countdown to 2024 Launch on May 4th
The clear blue waters of Lake Simcoe produce some of the best sailing conditions in the Great Lakes Region. Hawkestone Yacht Club (HYC) is a member operated private sailing club located on the northern shore of Lake Simcoe.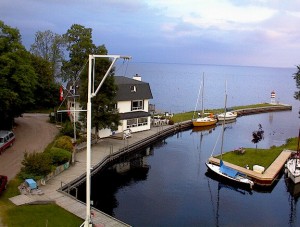 About 65 sailboats are moored Mediterranean style in a private cove like setting nestled in the rolling hills below the quaint town of Hawkestone. From HYC you are able to view the surrounding lake, the private beach and picnic area, and sailing yachts of all sizes and makes. A pleasant walk of about 10 minutes inland will take you to the Hawkestone General Store. There, you will find all the basic supplies, groceries and LCBO licensed products.
As well as being a non-profit operation, we rely on members to have a community ownership philosophy. The efforts and contributions of members have made the club the great place that it is today. Each season, we boast a full social calendar of member driven, family oriented on-shore events, cruises and drop the hook regattas and friendly in-club races. HYC members have been active participants of Lake Simcoe's sailing community since 1965.
If you are or want to be sailing Lake Simcoe, there has never been a better time to make HYC your home port!
Hawkestone Yacht Club offers:
a beautiful sailing location
easy access to the lake
a fully equipped kitchen for member use
family friendly atmosphere
great social calendar
a sandy, private beach
a sheltered and quiet harbour
New Members Welcome!! We have limited slips available for the 2023 season for sailboats up to 36 feet with beams up to 12 feet and drafts up to 5 feet. Go to Membership Info to submit application.